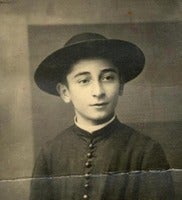 The Patron of the New Seminary was announced publicly by pablo the Mexican on the Archbishop Lefebvre - Resistance Forum recently:
ROLANDO RIVI
-Italian Seminarian, martyred for the faith by Communists near the end of World War II.
Quotes from the link above:
"He used to say: "No I can't I can't take away my cassock, I have no fear, I am not afraid or worried, I cannot hide myself. I belong to the Lord."

He was only fourteen years old, a little older than a child, but he never hid his clear identity of being a passionate aspirant to the priesthood. He continued wearing the black robes and the biretta.

In a very instinctive way he already knew that to camouflage oneself harms the apostolic work in which signs and symbols, in the same way as gestures, are a very important part."
Link here also:
http://abplefebvreforums.proboards.com/thread/801/seminary-patron?page=1&scrollTo=7806
More about him can be found on the internet.