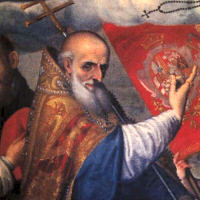 Fr Hewko's sermon from the feast of Our Lady of the Rosary is a very good reminder of Our Lady's power over evil, and how those who come together with Our Lady leading the way, as in Lepanto, will have the victory! St. Pius V, pray for us.
One reason for the economic crisis today is the lack of children. They've been contracepted and killed.
Catholic families have not accepted all the children that God wished to send them... if that means you have 15 children, blessed be God!